Speed Dating Montreal: A Feast of Art and Architecture
Originally published on Architizer on May 6, 2014.
8am: Habitat 67
Montreal's Trudeau Airport staff are barely in place when I disembark from the plane. In no time, I'm racing toward the nearly 50-year-old Habitat 67, Moshe Safdie's thesis at McGill University turned model housing project for the World Fair Expo. I had long admired the provocative photographs, ranging from Legos on crack and Byzantium anthill to beautifully ugly. At this early hour, I was lucky to be able to roam undisturbed among the interior connecting plazas.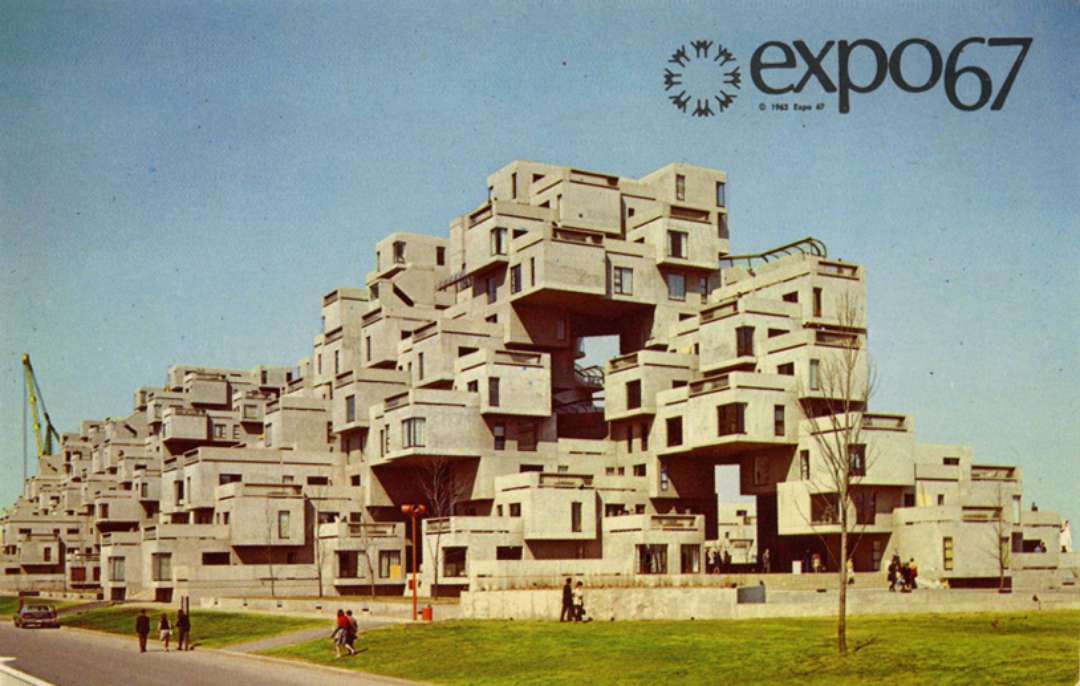 Image via Proliferations
The relentless material singularity of 354 prefabricated concrete boxes cantilevering in multiple directions makes me dizzy with pleasure. Outside, it's overcast, foreboding with rain, yet this Brutalist complex begins to emit a yellow glow between narrow window slits as residents awake and raise their shades to St. Lawrence River views.
Photos by author
With private terraces, multilevel units, gardens, and partially-covered walkways, Habitat 67 was a victim of its own success. Safdie had hoped his diagram would become an opus to affordable housing and prefabrication, but its desirability transformed it into a very successful coop.
Image via Byblos Petit Cafe
9am: Byblos Petit Cafe
How can I not order the Oriental Omelette at Byblos Petit Cafe, an Iranian restaurant in the bohemian neighborhood of Plateau Mont-Royal? (Think Greenpoint aspiring to be the Marais). This popular breakfast spot delivers; perfectly scrambled eggs, sprinkled with cardamon, rose petals and crushed nuts, are paired with sweet bread embedded with traces of black sesame paste, all washed down with a bitter strong tea.
Image via Safdie Architects

10am: Musee Des Beaux-Arts
The impetus for this quick sojourn is Peter Doig: No Foreign Lands at the Musee Des Beaux-Arts, a recent exhibition that originated in Scotland and does not travel to the US. I enter through the Jean-Noël Desmarais Pavilion, another Safdie design, built in 1991 (above) and is fussy and aggressive. Doig's exhibition is thankfully presented in the oldest pavilion, a sturdy, neoclassical building from 1912.
Peter Doig, 100 Years Ago (Carrera), 2001, Oil on linen, 229 x 359 cm, Centre Pompidou, MNAM-CCI, Photo by Jochen Littkemann. Images courtesy Montreal Musée des Beaux-Arts
Photo by George Whiteside
Spending a formative youth in Montreal, Doig is universally praised, yet his newsworthy, record-breaking auction prices have unfortunately muted the tender exquisiteness of his work. It is an unmitigated thrill to see "100 Years Ago" (or the hippie man in the long canoe) inspired by a scene from the horror film Friday the 13th (1980). The exhibition surveys the last dozen years and earlier romantic work is marked by compositions that are framed by sky meets water, forest meets sand, water meets land. The more recent paintings resonate with deliberate architectural motifs — oversized speakers, ping pong tables, diving boards and hammocks. (It's been noted that one will find Le Corbusier catalogs in his studio.) These cinematic, enigmatic scenes in oil on linen, leave me breathless.
Image via Rose and Partners
1pm: The Canadian Center for Architecture
Three rousing cheers for Phyllis Lambert. If she'd been a New Yorker, her vision for an international research center and museum would be based here instead of her hometown of Montreal. Founded in 1979, The Canadian Center for Architecture (CCA) is an archive, library, research residency, exhibition and public forum. Lambert, a product of Illinois Institute of Technology, collaborated with fellow Montrealer, Yale-trained Peter Rose.
Image via Rose and Partners
The 130,000-square-foot center is a mash up of minimalist tendencies overlaid by Post-Modernism, resulting in a surprisingly airy and subtly humorous environment. CCA houses one of the three most comprehensive architectural archives in the world (the collections at Columbia University and the RIBA in London complete the triad) and boasts 700 architectural journal subscriptions. In the library, there are desks grouped together for discussions, individual ones with lockable cabinets for personal belongings, and lots of great light — the original co-sharing workspace.
Image via Rose and Partners
And speaking of books, who doesn't own the CCA imprint Natural History, a compendium of Herzog & de Meuron's practice, a template much copied and not yet rivaled? The Whitney ended up leasing their iconic Marcel Breuer building to the Metropolitan Museum of Art, but imagine if they had partnered with The Arch League to create the ACA — the American Center for Architecture.
Image via Artcyclopedia
3pm: Biosphere
The architectural community is obsessed with the geodesic dome and its pied piper is Buckminster Fuller. His structure of steel and acrylic cells served as the US Pavilion for the World Fair Expo 1967. In 1976 a fire destroyed the plastic bubble and by the 1990s, the internal spaces focused on exhibitions about the environment, and the structure was thus renamed the Biosphere. Situated in a park, on a sliver of an island, the dome peeks through tall trees as we approach by car. It is both historic and futuristic — a gleaming apparition that has yet to fully take hold.
Image via La Presse
5pm: Le Vin Papillon
With an hour left in the city, I make my way to the industrial working class neighborhood of Little Burgundy, the home to David Chang's favorite restaurant, Joe Beef. The proprietors recently opened a third venue on the same block, Le Vin Papillon, where the menu changes daily on blackboard walls. I order radishes with a biscuit, shaved celery root, and snow crab. One of the things I detest most about Instagram is the pollution of food porn ("OMG look at my juicy burger, my oily pizza slice"). So it's out of character when I pull my phone out to snap a pic of my first dish. The small golden biscuit's flaky interior is a lush spring green, the flour blended with the radish leaves, as is the whipped butter, while the soft pink-red tops of the miniature radishes bleed into the white tails. The unusual color palette leaves me riveted and I am reminded of Doig's paintings from earlier in the day.
First impression of my speed date with Montreal? We are very compatible.