Architecture At Art Basel Miami Beach
Originally published by Architizer on December 11, 2013.
At Art Basel Miami Beach, the well-heeled hordes descended upon the barrier islands to buy, network, cultivate, and party. Peering through my tinted shades, I see architecture everywhere.
In years past, the built environment has been a low vibration backdrop.That's not to say there haven't been a few standouts. In the early 2000s, the developer Craig Robins conceived of the Design District, a new commercial/residential neighborhood. Less than ten years later, the district is home to over one hundred art and design galleries and luxury brands (lured away from blue-chip Bal Harbour). In 2010, a car park revved our engines; the following season, it was the concert hall for the New World Symphony that trumpeted.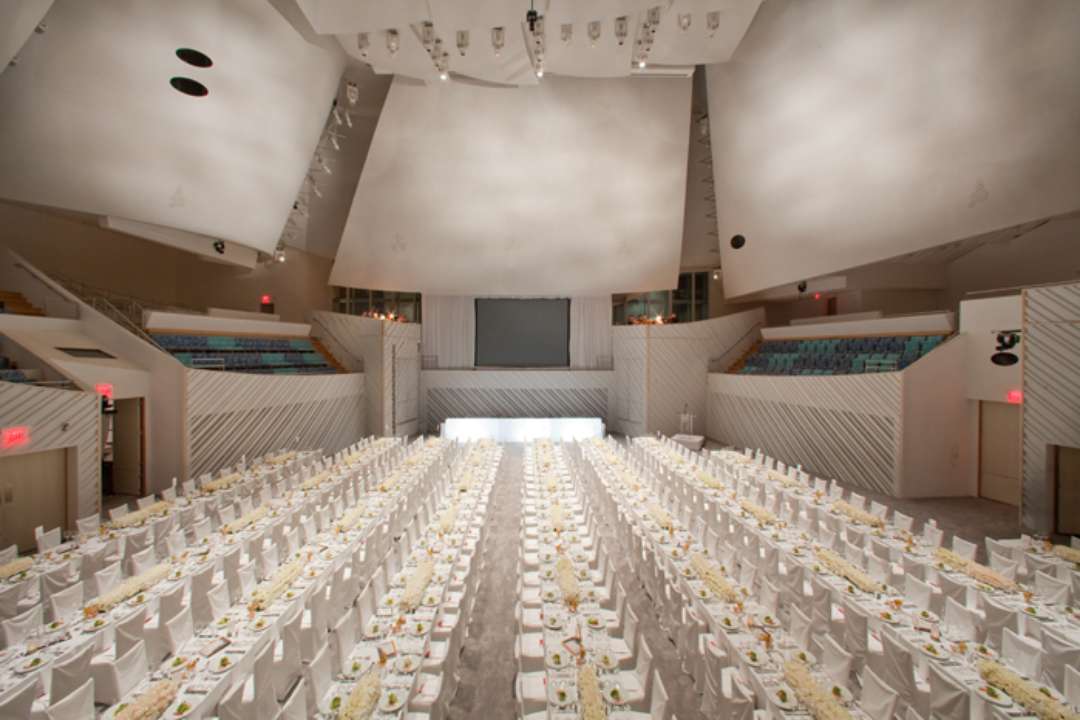 The 2011 New World Symphony concert hall, designed by Frank Gehry. Image via
This year, there was a perceptible shift—Miami has strategically leveraged "starchitecture" in order to reignite its languishing economy and claim its spot as a world-class city. All eyes were on PAMM (Pérez Art Museum Miami), where teams were hustling to hang plants that will be this museum's living iconography. Architecture transcended context to become content as in it moved out of the echo chamber and into the convention center.
PAMM. Image by Iwan Baan
Everyone had an opinion about PAMM, and it was widely praised by the glitterati. Its architect, Jacques Herzog, took center stage with Kanye West, and their conversation, moderated by Hans Ulrich Obrist, was the red-hot ticket. It's worth noting the value of celebrity: Mr. West received top billing, over Mr. Herzog and his nearly 50 years of professional experience.
Hans Ulrich Obrist, Jacques Herzog, and Kanye West onstage at Art Basel Miami Beach. Imagevia.
At Design Miami, gallerist Patrick Seguin took the calculated risk of featuring architecture that rivals contemporary art in its cost. Take the $2.5 million Maison Démontable 8×8, a 1945 prefabricated one-room house designed by Jean Prouvé. The prototype's original intention was to house the devastated French population after World War II. At the nearby Raleigh Hotel, LMVH realized Charlotte Perriand's 1934 blueprints for a house beside the water, La maison au bord de l'eau. A trailblazer then and a legend now, Ms. Perriand's design took second prize in a competition to produce affordable beach lodging. This mock-up will be auctioned off by Sotheby's in 2014. Note to self: dead architects, like dead artists, sell well.
Maison Démontable 8×8 on display. Image via.
La maison au bord de l'eau on display. Image via.
The developers Terra Group, in partnership with Related Group, invited Terence Riley (the former director of PAMM responsible for hiring Herzog and de Meuron) to select four firms to conceptualize high-end, mid-rise residential buildings for waterfront property in Coconut Grove. The resulting exhibition at Design Miami included the visions of OMA, Diller Scofidio + Renfro, Jean Nouvel, and Christian de Portzamparc.
All in all, it was a strong week for architecture, albeit one centered on dead French modernists and senior citizen architects. The contemporary art world is agnostic about age: Aaron Young is mentioned in the same breath as Chris Burden; Ryan Trecartin as Brion Gysin; Lynette Yoadim Boakye as Luc Tuymans. The sandbox is rowdy and relevant. Here's who should have been invited to the party: WORKac (Dasha Zhukova's art island project in St. Petersburg);Johnston Marklee (Menil Drawing Center in Houston); SO-IL (University of California Davis Art Museum); MASS Studies (Songwon Art Center, Seoul); and Carmody Groarke (Julian Opie's artist studio and Frieze Art Fair London).
I look forward to next year, when the powers-that-be dig just a bit deeper to provide a platform for the next generation of architects who are changing the cultural landscape for galleries, for museums, for the art world.