Reflecting and Restarting: Charles Adler, Co-Founder of Kickstarter Talks to Karen Wong
Originally published by Architizer on November 26, 2013.
In 2009, Charles Adler and his friends Perry Chen and Yancey Stricker launched Kickstarter, an online platform for individuals to fund creative projects—including Architizer favorites the LowLine and Plus Pool. Since then, 5.2 million people have pledged $866 million, funding 52,000 projects. On October 30, Adler announced that he would be leaving the company. In this exclusive interview, Adler talks with fellow A+ juror Karen Wong, deputy director of the New Museum about his departure, building Kickstarter, and his longstanding relationship to architecture.
Karen Wong: You recently announced you were stepping down from your position as Head of Design at Kickstarter — seven years in. Why leave when the going is great?
Charles Adler: Meeting Perry Chen and Yancey Strickler as they were first finding shape to Perry's original idea for Kickstarter, committing myself 200% to bring Kickstarter into the world, having the opportunity to build a product, a company and a team—it's been incredible. The ride has taken us through some interesting challenges and obviously some incredible highs.
And those highs continue to inspire me, but at a certain point I began looking around—beyond Kickstarter, to the world at large. … I was far from bored, but restless for those moments when you're discovering new territory. I missed the fear of the unknown. …
Right now, my focus is to observe and process what's going on around me. Find a challenge I care deeply about and feel I have the capacity and vision to see it through. And to do that with a group of people with whom I want to work.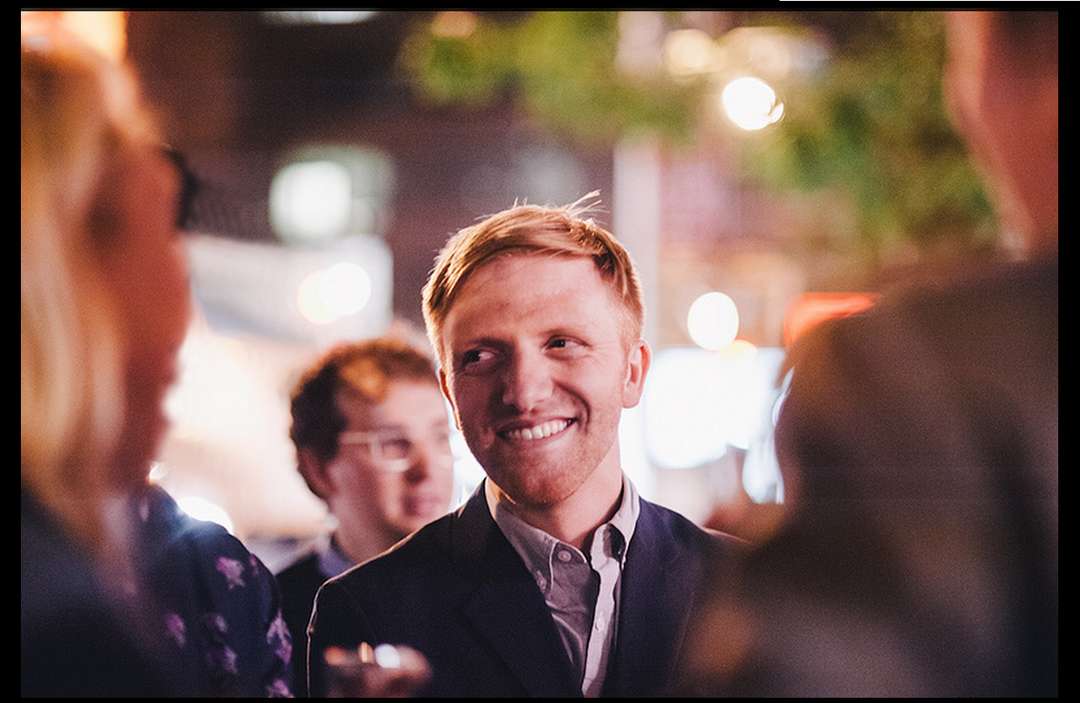 Charles Adler at the 2013 Storefront for Art and Architecture membership dinner. Photo by Joe Martinez Photography
The day before your leaving announcement was made public, Kickstarter posted impressive data of what has been accomplished. Kickstarter will surpass the one billion dollars pledged before its fifth anniversary. But only 43% of the projects are successful, so the dollar amount raised is far less. What do the numbers really say? How would you interpret them?
In terms of the percentage of successfully funded projects, I'd turn that around. I find it stunning and inspiring that so many projects find their voice and see the light of day. So many of these projects would fall victim to the excuses of our everyday – no time, no funding, no guidance…. And if you look at traditional paths for funding creative works, the vast majority of projects wouldn't have a crack at it.
Dollars pledged is a number that fascinates me, personally. Since the early days of Kickstarter, we've seen an incredibly steady 88% to 89% of dollars pledged go toward successful projects. Add to that the fact that those dollars are being directed to 50,000 creative projects by upwards of 5 million people around the world. A lot of money is being distributed by a great number of inspired people to see some fascinating personal projects come to life.
 What was an unexpected design success on the Kickstarter platform?
One of my favorites, and one that I feel most proud of is the rewards system. The concept of rewards has always been part of our DNA. A memento from a project—that makes the experience of the project, and by nature [of] Kickstarter, visceral. But as we began to model rewards, they became over-designed. A number of assumptions were made about the type of rewards people would offer based on the type of project (film, music, art, etc). Obvious items, and obvious things limit the imagination. Yet, the last option on the list was simply titled "other" with a blank form. This "other" option always ate at me.
The simplicity of "'other"…the opportunity with "other" … I was incredibly curious to see what people would do with "other," so we turned rewards from a predefined set of suggestions to a single empty field, with the ability to add more. Thankfully we built what you see today: a simple, blank slate for individuals to foster their imagination.
Friends and colleagues of mine that have found success on the Kickstarter platform expend an inordinate amount of time producing the video pitch. How was the role of video developed?
Kickstarter is about allowing creators to tell the story of their project as it unfolds—to share their personal passions with others. And video helps to tell that story in a much more personal way. You see someone's face, hands, and hear their voice. You can look into their eyes. Hear the excited intonations. You get to connect with them emotionally. So video has always been important to us. It allows the viewer to empathize and relate. That's critical.
Just prior to our public launch, we debated whether video should be required or optional. I recall, very distinctly, being in debate with Perry, Yancey and the rest of the gang about whether a video should be required or not. Perry didn't want to alienate too many people by forcing video. That was the right decision for sure, especially in the early days.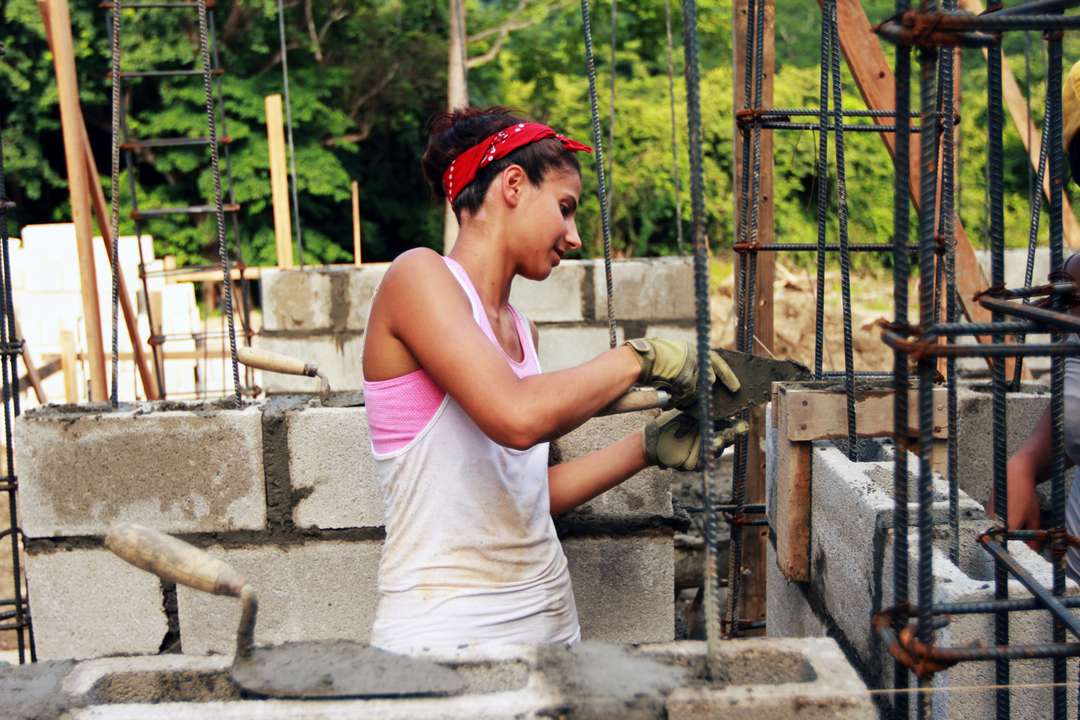 Architecture students at the New York Institute of Technology raised more than $30,000 to build a recycling center in Costa Rica through two Kickstarter campaigns.
Innovative NY projects like Plus Pool for the East River, Low Line for the Lower East Side, and Marina Abramović Institute in Hudson had great campaigns on Kickstarter. Does "architecture" deserve its own category?
At the moment many of the architecture-related projects on Kickstarter would currently fall under the"Civic" tag. This is something relatively new, allowing us to surface new memes that don't cleanly fit into our existing categories. We take great care in creating new categories, in an effort to keep the site simple, as well as ensure there's enough momentum for any given category or subcategory.
Plus Pool and the Low Line are ridiculously cool, and there are plenty of other architecture projects.Urbanized, a film by Gary Hustwit, and the book The Olympic City, by Jon Pack and Gary Hustwit, center on the built environment. We'll only see more projects rooted in architecture over time. As with any category the growth is organic, and once it feels sustainable for a category, you'll see it on the site.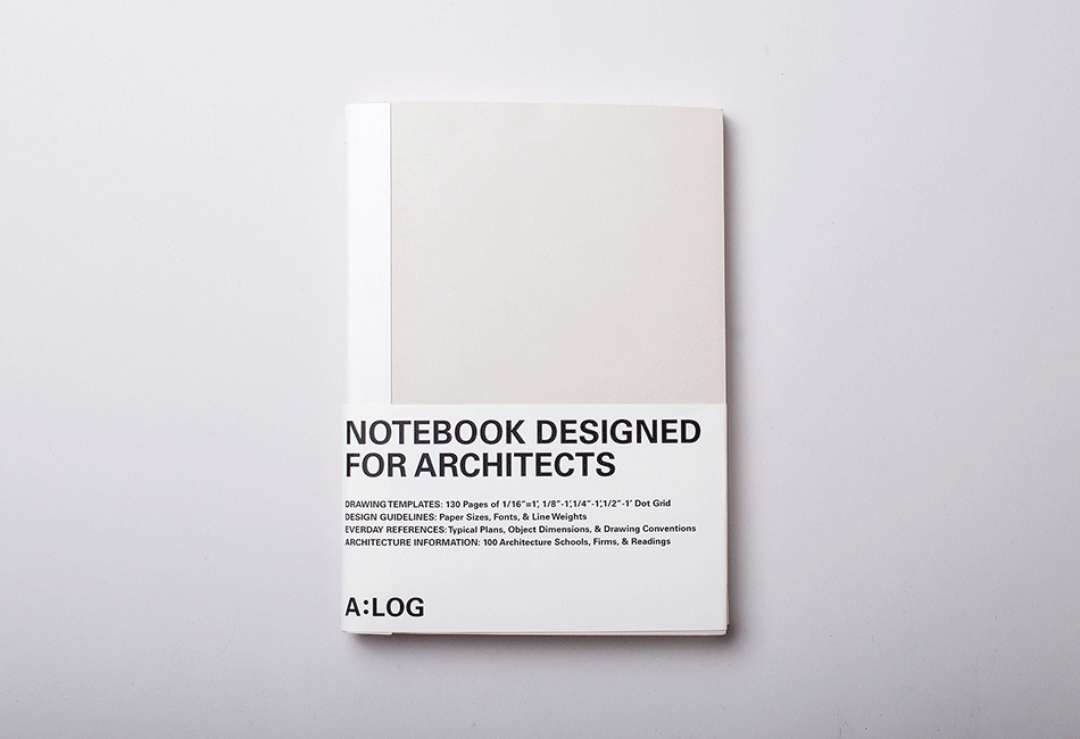 A:LOG, a notebook for architects, found its funding through Kickstarter.
You once thought you might study architecture — why didn't you?
Yeah, architecture. As much as I reference Henry Dreyfus, Don Norman, and Dieter Rams with regard to product design, architecture has long been a more significant influence for me. Sure, growing up I was really interested in what I would later realize as design. But most significantly I was really curious about buildings. Somehow I stumbled upon Mies Van Der Rohe, Charles and Ray Eames, Frank Lloyd Wright, Le Corbusier, and the whole Bauhaus and Black Mountain College community. This resulted in my taking drafting classes in high school, and nearly applying to the Illinois Institute of Technology's architecture program.
But a simple conversation between my dad and a cabbie in New York City changed all that. Midway through my dad interrupted with something to the effect of "you must have done something before driving this cab" to which the cabbie responded, "Yeah, I used to be an architect." It reinforced a comment my father had made earlier—that you'll never make any money as an architect, assuming you ever get to practice as an architect.
You didn't finish college (Purdue, engineering), and certainly within the tech/digital sector, the dropout story has become a badge of honor. What makes "education" seem so malleable in your field?
I certainly don't wear my dropout status as a badge of honor, but I do reflect on it as an example that anyone can do anything in this world. Perhaps it's more a nod to my comfort with taking some level of risk in my life. That said, how many college dropouts are there in this country? Quite a few. So I really don't think there's much behind that common correlation.
In terms of education in my field—design for the web—it's quite simple. … When I discovered this "field," there wasn't one. We all made it up as we went along. I'd like to think that we're still in the early phase, feeling our way, exploring the dark a bit. We've figured a good number of things out, which includes borrowing from other related disciplines: architecture, book design, industrial design, and more.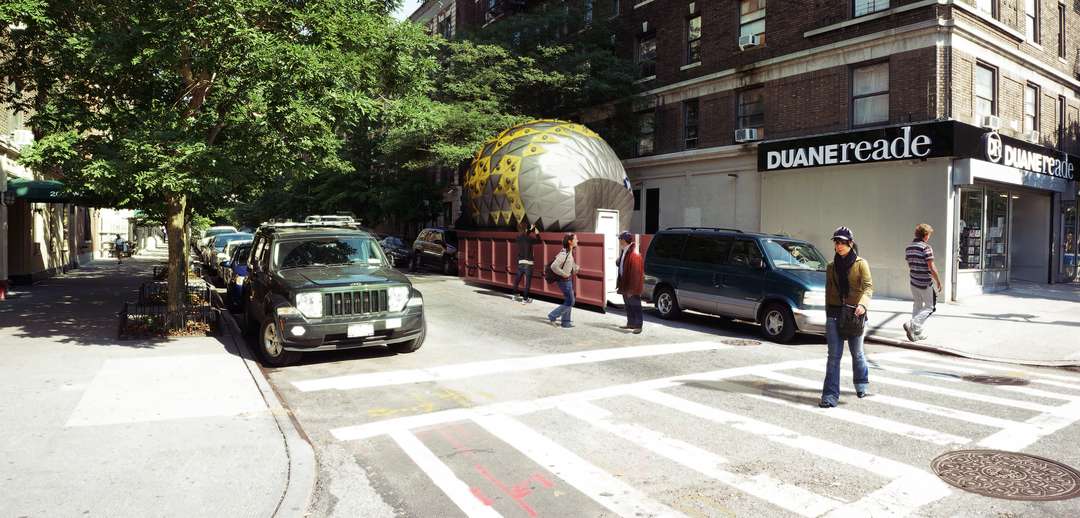 Inflato Dumpster, an inflatable, pop-up performance and education space (located, yes, inside a dumpster) recently achieved its fundraising goal on Kickstarter.
A decade ago when you built a site, there were engineers/programmers for the back end and graphic designers for the front end. Now a new cottage industry has spawned—UX designers (user experience) that interface between the two tribes. Is designing an online platform that complicated that we need this layer?
User experience designers used to be called "information architects." Before that we were all called webmasters. It's closely tied to the concepts of ergonomics and human-factors design. Early practitioners with roots back to the 1940s came from CD-ROM development, well before the web. I first started tinkering on the web in 1994, and I've grown up through the internet evolution. …
As systems become more complex, our technology is more accessible. We've reached a point where the experience we have with technology has equal if not greater value than the technology itself.
Years ago, I imagined the role of IA or UX would be absorbed into … design and engineering, but it doesn't seem to be the case. That being said, designers working on the web should act more like industrial designers or urban planners rather than graphic designers. We're designing for communities to co-exist with a virtual built environment. Every designer should be required to read "Designing for People" by Henry Dreyfus and "The Design of Everyday Things" by Don Norman.
Where are the similarities or shared notion for designers and architects?
For me, architecture is about shaping space around people based on either a specific or general function. The architects I admire tend to view the world in a similar light, or at least their work portrays that motivation. In the user interface world, making your work invisible is the ambition, and I expressed this ethos as a designer or architect for digital products.
Kickstarter is about the collective and their projects. For example, a campaign's homepage allows the project's identity and the personality of the creator shine through. We try to take a back seat as much as possible. To play on the Mies-ian cliche, I had written a note to myself as a dictum to judge my work: "Less of us, more of them."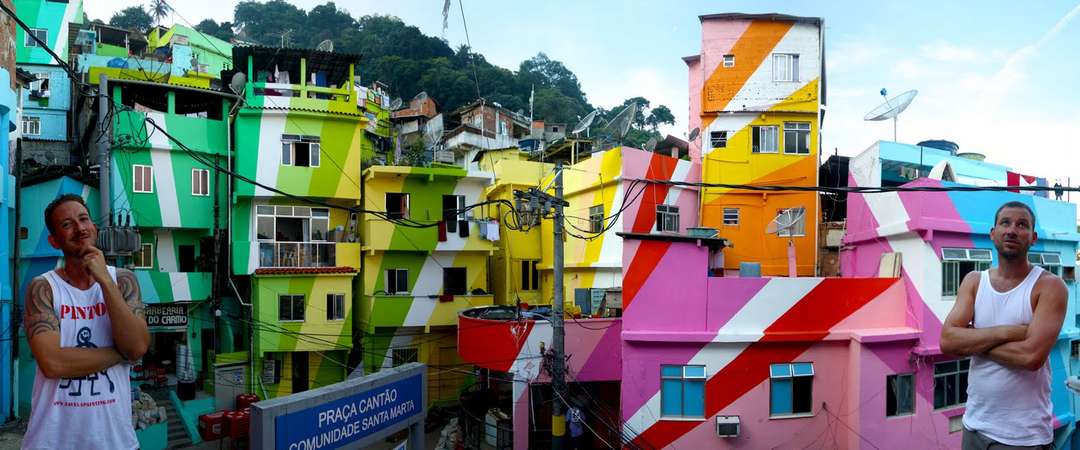 Design duo Haas&Hahn raised more than $100,000 to paint an entire hillside favela in Rio.
Online space often competes with the real world. The phenomena that many of us are addicted to screens can only (in my humble opinion) breed generations of dysfunction. Kickstarter is a tool that gets you off your tush to make, to create. What other online platforms share this quality of transformative energy?
Someone said to me a few weeks ago, while we debated whether design can change the world, "change happens regardless of design." To which I realized, it's not about always creating change (or future dysfunction), but how we apply ourselves to shape the change ahead (or future function).
Meetup is a fantastic example of how the web becomes an enabler for people to connect online through a shared interest with the sole intention to get those people to meet in the real world around that topic. DIY is a community for kids to learn new skills, and share those skills with the rest of the community. Kitchensurfing is a marketplace to help you find a chef for a special event, big or small. It's about being present at the table. Not to mention it provides a venue for up-and-coming chefs.
And of course inquiring minds want to know — what is the next adventure? If you can't be specific, what issues/problems do you hope to tackle?
I'm always thinking about and continually fascinated by the following topics: enabling makers with tools to create; our natural environment for future generations; and how learning and education are not interchangeable terms.
But that being said, if I knew what "it" was, it wouldn't be an adventure, would it?