Miami Heat: Bjarke Ingels & Shohei Shigematsu Discuss Their Convention Center Showdown
Originally published by Architizer on November 4, 2013.
Over the summer, the architectural press whipped us into a lather for the epic battle of OMA vs BIG. The coveted prize: the commission of the Miami Beach Convention Center Redevelopment. Stories have characterized this duel as Oedipal; a fraught father-and-son professional relationship played out in a sun-filled, palm-treed, fake-boobed city of Florida.
Nothing could be further from the truth.
Early this fall, I had lunch with Bjarke Ingels of BIG and Shohei Shigematsu, the partner in charge of OMA's NYC office and Rem Koolhaas' co-leader for the team that won the Miami Beach commission.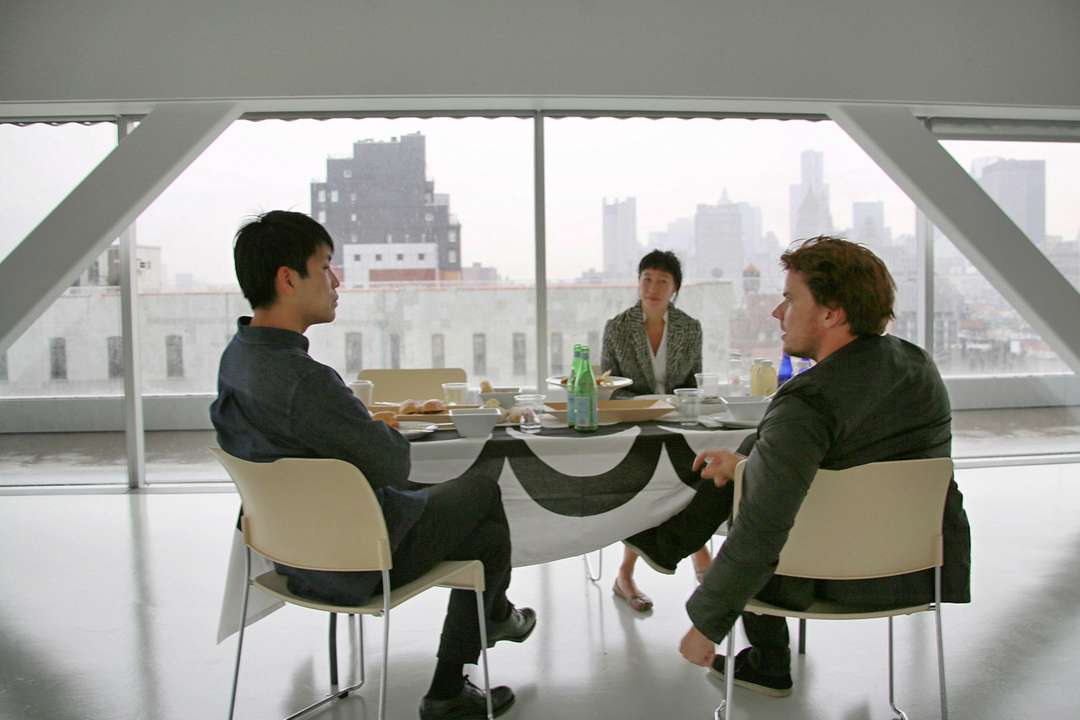 Bjarke and Shohei met 13 years ago when they overlapped at OMA Rotterdam. Shohei was working on a Dutch project and Bjarke was much busier on a library in Seattle. Nightly visits to the local watering hole were essential to one's ability to tolerate the city. "I was going out almost every night, and then [Bjarke] would join us and then get a call from the office to come back," Shohei recalls. The next year, Bjarke went on to establish Plot, a practice with Julien de Smedt, and subsequently in 2006 his eponymous firm BIG. Shohei continued in Rotterdam, moved to NYC in 2006 to lead the U.S. office and became a partner in 2008. They are friends and fans of each other's work.
OMA's Seattle Central Library, which Bjarke was working on when he met Shohei. Photo: Fernando Herrera
Lunch was an excuse to provide an opportunity to speak frankly about the recent competition and what were the lessons learned. I was struck by how articulate each was in English—neither their native tongue. We've all seen Bjarke's TedTalk—there is charisma and bravura. In person he maintains an enthusiasm for any topic he might grab onto and beats it into submission. Shohei is more tempered and exacting; a man of fewer words.
Bjarke and Shohei agreed on many characteristics of this master plan competition. "It was kind of exciting and also torturous, too," said Bjarke. "It was a long process."
No kidding: The competition comprised several months of pre-selection interviews followed by six months of design development and punctuated by numerous public presentations. It was also incredibly complex—not only, says Bjarke, because the brief itself demanded the design to address such issues as "traffic, the economy, performance, and the quality of urban space," but also because the number of stakeholders and politicians made for less architecture and moreGame of Thrones.
A rendering from OMA's winning Miami Beach Convention Center proposal
A rendering from BIG's proposal
"What it was, it was sort of a clash of developers, contractors, spindoctors, lobbyists, people with various relationships with various commissioners, all kinds of PR companies, and giant teams of consultants," reflects Bjarke. "I've never been involved in a process that was so political." Under those circumstances, he adds, the decision-makers are "putting in a whole web of things that have nothing to do with this particular part of Miami Beach, and [those things] start influencing the decisions."
Yet Bjarke felt that the political process was something to learn from, to access, to master. "I think next time I would be able to populate that list of interests and criteria with greater detail and greater specificity," he says, while Shohei reflected on the design process and called out the importance and sensitivity one must have for safety issues in major public infrastructure. "It reminded me again that conservatism is very important in a way to actually carry your innovative side," Shohei added.
Different visions for the Miami convention center, from OMA (top) and BIG.
And what stories had they wish the press would have written? Less on the lightsabers of Darth Vader and Luke Skywalker and more on architectural criticism. "I was literally disappointed that none of the press actually took sides on the competition. No one said: 'OK, we support' or 'We think this is better,'" says Shohei. "Not necessarily taking ultimate sides, but at least critiquing it."
That makes sense: Bjarke, who turned 39 earlier this month, and Shohei, who reached 40 this summer, are no longer the young lions. As they enter middle age, they are hungry for real feedback— what aspects of their design resonate, where could there be improvement, what doesn't work? In other words: Less ego and more conversation.