Getting To Know Jacques Herzog
Originally published by Architizer on September 16, 2013.
Ten years ago in London, at the Royal Academy or maybe it was the RIBA, I waited and then I waited some more for Jacques Herzog to show up. The auditorium was filled to capacity; the energy was electric.Herzog & de Meuron (already Pritzker Prize winners, 2001) were riding high on the critical success of the Tate Modern and the just-finished, inexpensive, and yet lush Laban Dance Centre. Ninety minutes late, Herzog, or an apparition of the then 53-year-old blew through his greatest architectural hits. I was a disappointed groupie.
Last Monday at Columbia's GSAPP Avery Hall was a different story, however.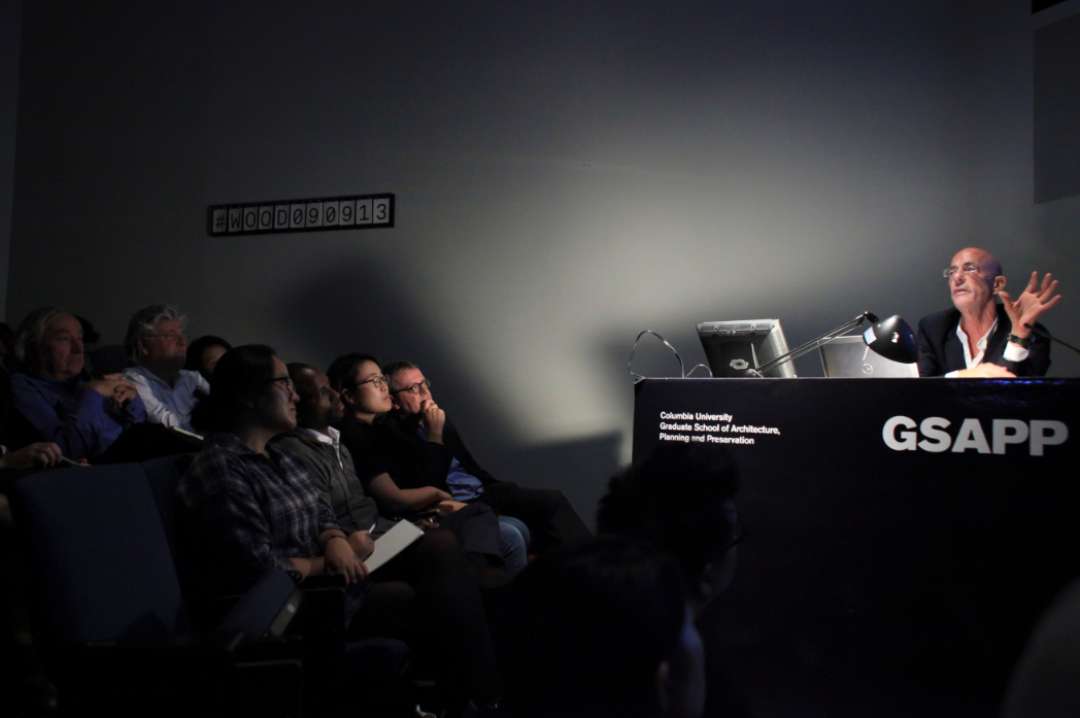 Photo: Tina Gao, Columbia University GSAPP
Herzog's GSAPP talk, "Myths and Collaborations over Time," opens with Dean Mark Wigley stumping for several minutes on the notion of how good architecture makes you hesitate. This moment of pause causes you to rethink, reevaluate and thus propels a possible change—the gift. It feels as if this just came to him, but he's always so spot on, you figure it's premeditated.
Now 63, taut, and sinewy, Herzog embarks on his 300+ slide presentation with a grainy black and white image of legendary German artist Joseph Beuys. Five minutes in, I know I am going to witness one of the best lectures by an architect this century thus far.
Parrish Art Museum, Water Mill, US
Speaking without notes, Herzog seduces you with his informal tenor, making you feel as though you were engaged in an intimate conversation with this great man. Herzog reveals mentors, artists who shaped their aesthetic, architects he detests, and unbuilt projects that still keep him awake at night. With 35 years of practice behind him, he now wants to qualify and quantify the legacy. He describes his oeuvre in four buckets: minimal, ornamental, archeological, and integral. It's a post-rationalization focused on aesthetics, not all together convincing, but brave nonetheless.
Goetz Collection, Munich, Germany. Photo: Margherita Spiluttini
As a globe-trotting architectural powerhouse, Herzog & de Meuron continue to surprise us. On the one hand you have the Bejing National Stadium (2008) and on the other, the recently completed Parrish Museum (2012). A number of projects are presented during the four-part thesis round up and it's an alluring trip down memory lane. I yearn for the earlier work: the purity of the Goetz Collection (1992) and the Stone House in Tavole, Italy, realized in 1988, the 17th project of 426 listed on the firm's fashionable website.
National Stadium, Beijing, China. Photo: Iwan Baan
After 90 minutes, Herzog closes on an iconic Iwan Baan image of the Birds Nest as public space. Every student, many of whom have waited in line for three hours for a place in the over-packed theater, stays for the Q&A. Well-mannered but gloves-off, students and professors pepper Herzog on his relationship with his partner Pierre de Meuron, whom he has known since they were 7 years old, to the new school he is starting at the University of Basel.
VitraHaus, Will am Rhein, Germany. Photo: Iwan Baan
His answers are less measured and more truthful. Artists today are spoiled. Architects are spoiled. Collaborations are not borne out of urgency like the 70′s. Buildings last. Theories are irrelevant. Young American architects are apolitical and US architectural community is enmeshed in an intellectual crisis. His provocations are less about ego and more of a challenge to us, to be better, to care. It's an anthem well worth listening to from a rock star.
Watch the lecture in full here.