Over The Rainbow And Out Of This World: Two NYC Performances Take The "Immersive Environment" Trend To Another Level
Originally published by Architizer on March 26, 2013.
Two overused words of late: immersive environment. I have been promised so many "immersive environment" experiences—from such indie favorites as Arcade Fire or rapper Kendrick Lamar—but they have amounted to nothing more than a cursory gesture: superficially "arty" videos framing the musicians while strobes flare into the audience.
I've been waiting to be seduced, and the stars finally aligned last week when two blue-chip NYC cultural institutions threw their hats into the ring.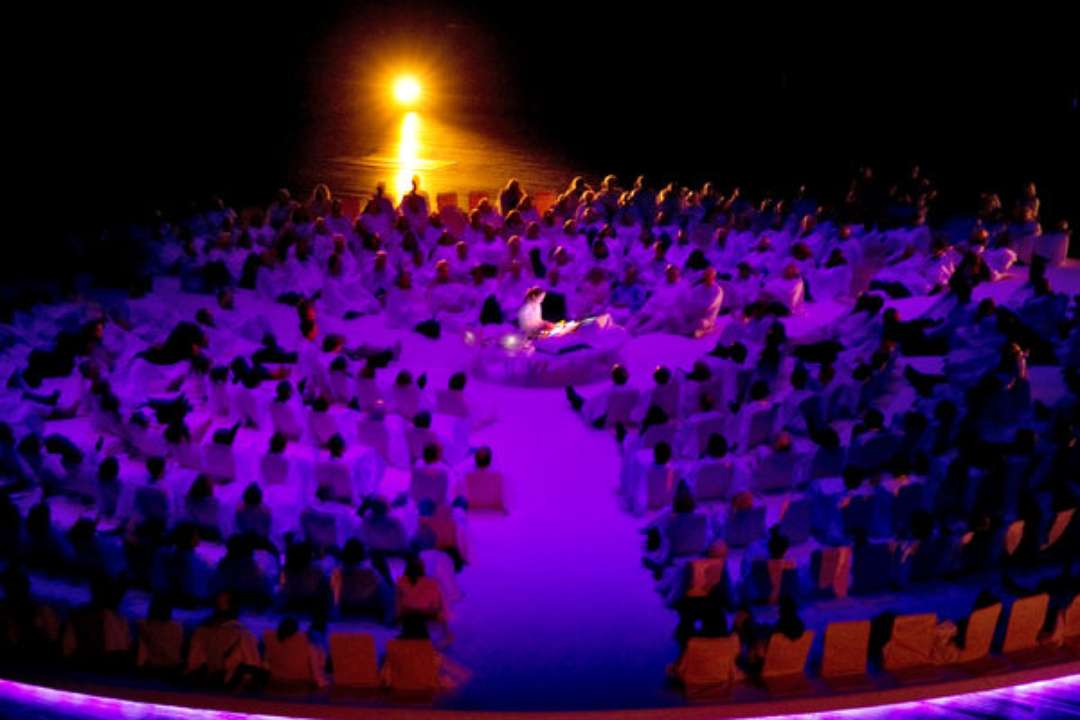 "Oktophonie," at the Park Avenue Armory
Less is more. First up was "Oktophonie," the second act of the electronic operatic masterpieceDienstag, by German composer Karlheinz Stockhausen. The Park Avenue Armory is presenting this 70-minute work, with sets by artist Rirkrit Tiravanija, through March 27, in the larger-than-a-football-field Drill Hall. Upon entering the 80-foot-high space the night we attended, we took off our shoes, donned white cloaks, and moved onto a round platform for 375 ghosts. We sat on a white felt-covered floor and leaned against matching back supports. We faced inward to a sound projectionist, who was encircled by several computers and an electronic board. The symphonic, atonal work bore its way through the grand room, and occasionally a set of lights delineated the structural trusses, making me sigh, "She's got great bones." In one moment we were submerged in near darkness, and in the next, a glaring orange light at eye level pierced through the audience. This minimalist approach visualized the architecture of sound with resounding effect.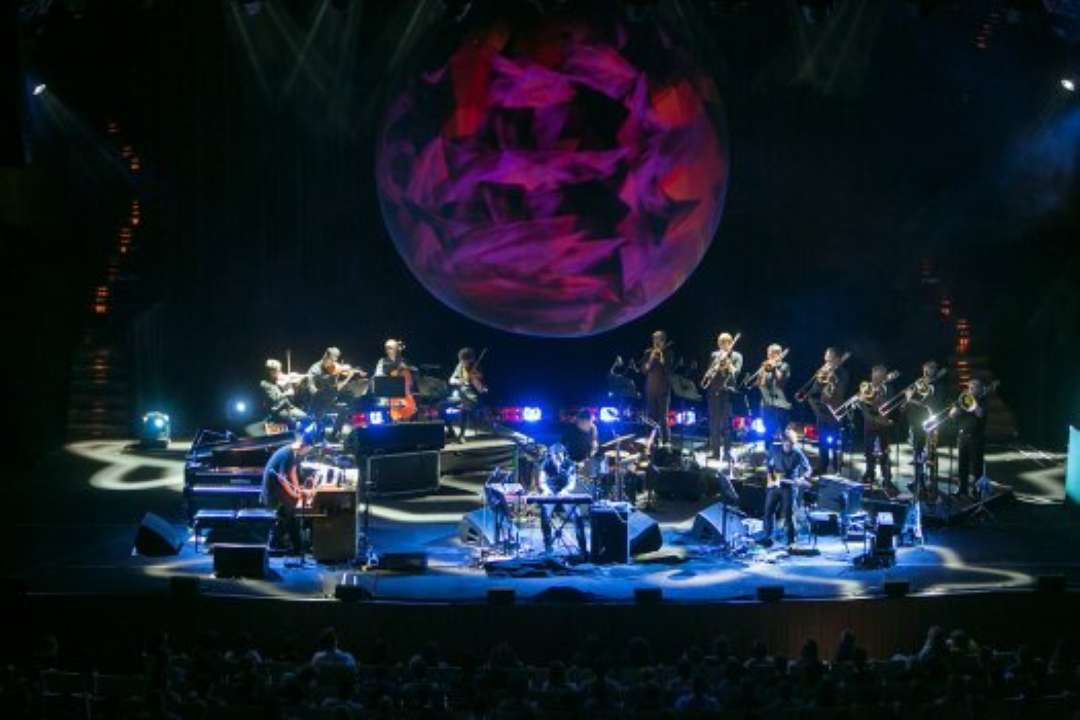 Scenes from Planetarium, at the Brooklyn Academy of Music
More is more. Across the East River, the Brooklyn Academy of Music demonstrated its immersive muscle with Planetarium, a 60-minute song cycle celebrating the solar system, composed and performed by Bryce Dessner, Nico Muhly, and Sufjan Stevens. On stage, the three indie-music astronauts were accompanied by seven trombonists, a drummer, and a string quartet all dressed in black. A gigantic inflatable orb, 12 feet in diameter, hung above the orchestra. As the piece began two projectors beamed galactic expressive images onto the sphere; within several minutes, we were overwhelmed with a full arsenal of eight projectors that emitted fans, funnels, and lasers of multicolored lights into the audience. Midway through Planetarium, when we landed on "The Sun," two oversized disco balls, cut in half and resting on lazy susans on the stage floor, were revealed. They began to whirl, creating another layer of mesmerizing patterns that filled the auditorium. The piece finished on Mercury, with a stunning display of pseudo restraint as well-calibrated black and white graphics with a dizzying array of thin white rays crisscrossed and zigzagged among the young crowd. For the encore, the three longtime collaborators performed a cosmic rendition of "Over the Rainbow."
The dreams that I dared to dream really did come true in two wildly different, imaginative, and delicious immersive environments.