Is London's LN-CC The Coolest Concept Store In The World?
Originally published by Architizer on March 13, 2013.
In 1970, Alvin Toffler, a scholar and futurist, coined the word adhocracy as a type of organization that operates contrary to a bureaucracy. Last year, Joseph Grima (editor of Domus magazine) reignited the term, naming his Istanbul Design Biennale exhibition "Adhocracy." The idea: that the new design revolution is no longer about factories producing millions of perfect objects, but about workshops crafting smaller batches of items characterized by their individuality.
This burgeoning movement of the "adhoc" pervaded my senses during a recent visit to the Late Night Chameleon Café, known online as LN-CC. Located in a warehouse basement in the former armpit of East London (Dalston), LN-CC is one of the most adventurous retail experiences I've ever had.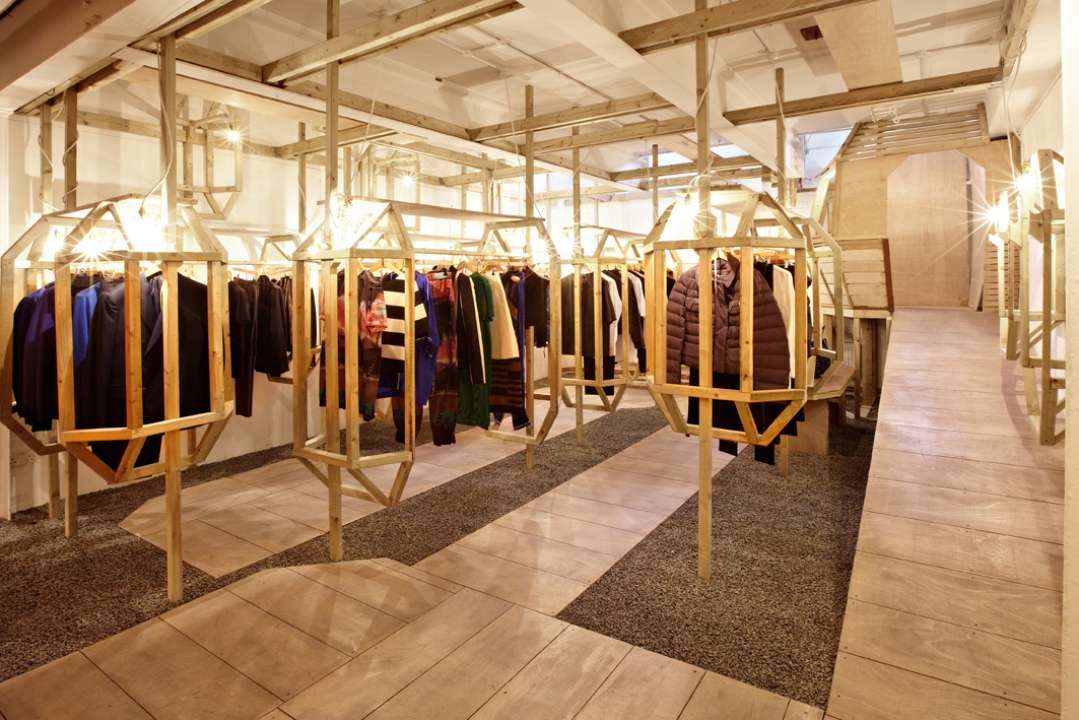 There are lots of exceptional concept stores with weak online presences. And there are plenty of e-commerce sites that never venture into a physical space. LN-CC has managed to crack the nut and do both. A devoted following racked up nearly $11 million in sales last year online, while the by-appointment-only, shit-this-better-be-good-because-this-is-really-out-of-my-way store delivers an eccentric, DIY aesthetic.
After turning into an unmarked alley and buzzing through a nondescript black door, a warm orange light beckons you into a tunnel that riffs on the iconic entrance of the Comme Des Garcons store in New York City. The space's backbone is an eight-sided volume constructed of 2 inch x 4 inch slates, and it's scrappy, whimsical, and porous. The octagonal motif (this time in neoprene) displays the accessories in a room that reminds me of Bruce Lee's hall of mirrors scene in Enter the Dragon. It reappears as a skeletal framework to hang the exquisite clothing selected by buyer and LN-CC ringleader John Skelton. Other recent add-ons are a limited-edition mezcal bar and an intimate club space with a killer sound system.
Art books and music have become a global marker for fashion boutiques to announce that their brand can curate your entire lifestyle. But for all intensive purposes, most of these efforts amount to eclectic décor. It's different at LN-CC, on site and online. The library and music room is separated from the clothes, and it stocks hard-to-find art, music, and fashion journals. LN-CC also commissions mix tapes especially for the store; thus far, it has 17 installments, which you can listen to in full on the website.
This store is serious and fun. You never forget that you are in a dingy basement, and even though the fashion is exclusive, it evades the stink of pretension. The architecture is malleable. The six partners rotate hosting appointments and DJ-ing, and together with friends and family build the set design that shapes this alien outpost. Starship Enterprise has landed.