A People's Palace: Yale's Glorious (And Free) Revamped Art Gallery
Originally published by Architizer on February 20, 2013.
It's bustling in Louis Kahn's lobby at the Yale University Art Gallery. There are no stanchions, no ticketing desks, and no signs imploring you to become a member. The informality of hang-a-ski-jacket-at-your-own-risk-on-wheeled-in-coat-racks is as refreshing as its admission policy: free to the public.
The Yale Art Gallery has recently re-opened, in full, after extensive renovations by Ennead Architects (formerly Polshek Partnership), and I was eager to see the changes. So, in homage to the museum's three buildings—Kahn's 1953 concrete-and-steel wing, the Gothic Revival limestone Swartwout Hall, and the Ruskinian brownstone Street Hall—I have invited two friends to join me on a self-guided tour of the renovated spaces, where we lose one another in a labyrinth of galleries. Up or down, left or right? We refer often to the large, and fortunately well-placed, maps.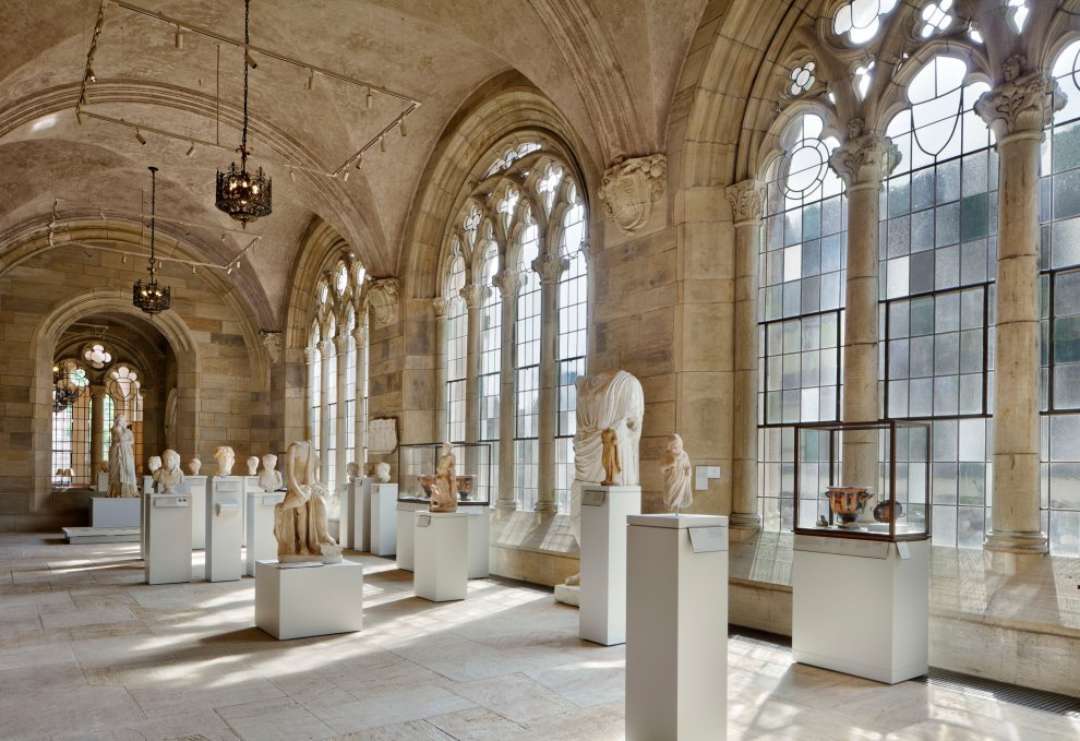 Perhaps it's a calculated device to slow you down to a stroll. That way you can absorb all the museum's intricacies. Kahn's forceful tetrahedral ceilings, which serve as a natural backdrop to the African and Indo-Pacific installations: stunning. Sunlight pouring through the cathedral windows into the hall of ancient art: ethereal. The peek-a-boo sight-lines of art on other floors as you ride the glass elevator: tacky like Fifth Avenue retail. Contrasting baseboards framing the intensely colored walls in the smaller European galleries: misjudged. (Add the epic-inspired paintings with flourished frames and the result is a visual overdose: good and bad like Fashion Architecture Taste.) Ascending a prominent staircase that wraps around the rectangular volume of the Tower Gallery: satisfying. A rooftop terrace providing vistas that could be mistaken for Oxford, England: surreal.
Ennead Architects was responsible for stitching this disparate triptych together, and the firm has done an astounding job. Ennead first tackled the Kahn masterpiece's restoration, completed in 2006. It then moved the History of Art Department, originally housed in Street Hall, to a new building. It rehabilitated and extended the Street and Swartwout Halls, and Yale University Art Gallery reopened in late 2012.
Much of what the architecture has accomplished is invisible, improving skins and systems that are now art friendly to one of the best university collections in the world. The brief is ultimately about circulation and thresholds. Ennead has orchestrated a crazy quilt of architectural styles, shifts in materials and patterns, and an improvisational flow that quenches any wanderlust for art. The scale doesn't overwhelm like other well-known encyclopedic museums. Instead, Ennead has taken three eccentric buildings from three different centuries that in no rational way make sense together and re-casted them into an easygoing palace filled with treasures that span thousands of years. It's a boon to the students, the community, and visitors from around the world.
Photos: Elizabeth Felicella