How Can You Design A Museum If You Don't Look At Art?
Originally published by Architizer on January 2, 2013.
In early December, I was invited to participate in final reviews at Harvard's Graduate School of Design. I was part of a panel of experts critiquing the architecture students' final projects, which they presented in front of their peers and faculty. GSD Adjunct Associate Professor Florian Idenburg— a partner of Brooklyn-based firm SO-IL and an A+ juror — had gathered a group of esteemed colleagues and professionals to judge his student's work. Among them: Mera Rubell, a highly regarded contemporary art collector whose real-life project in Washington, D.C., was the subject of Florian's students' presentations.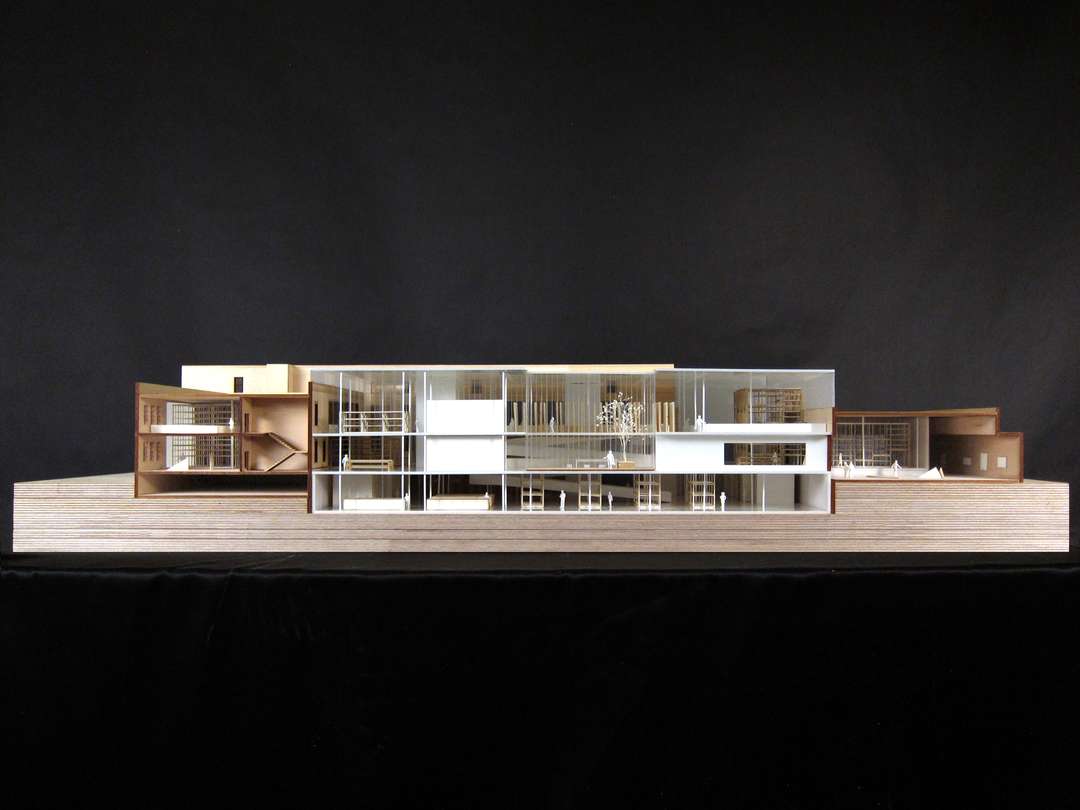 Courtesy of Jennifer Ly/Harvard GSD
Since 1993, the Rubell Family Collection — housed in a repurposed confiscated-goods facility belonging to the Drug Enforcement Agency in Miami's Wynwood District — has been an exemplary model of a private foundation with a public face. The entire family — Mera, her husband Don, son Jason, and daughter Jennifer — has played a vital role in spurring the ongoing success of Miami Art Basel, which just celebrated its 10th anniversary.
Now, the Rubells are expanding to Washington, D.C. With a developing partner, the family purchased the partially landmarked, abandoned Randall School in the southwest neighborhood of the city, within spitting distance of the Capitol.  They are in the midst of establishing a final program — one that intends to transform the school compound into a cultural cornerstone — establishing a second museum for their vast collection, grounded with mixed-income housing and retail amenities that will pay for the private museum.
The project, adjacent to the Rubell-owned Capitol Skyline Hotel (designed by Morris Lapidus in 1960) is helmed by Bing Thom Architects of Vancouver.  Yet Mera likes to flirt with architects, and Florian caught her eye after seeing SO-IL's elegant tent on Randall's Island for Frieze Art Fair's inaugural foray into NYC this May. Florian relished the opportunity to delve into the possibilities of this complex brief: Rich urban history, community renewal, preservation, private foundation proffering up a public mission, and how politics impact design would offer the ingredients for a thought-provoking and sexy course.  To boot, a charismatic client who would host the students in Miami, and attend midterm and final reviews.
Courtesy of Alberto Montesinos/Harvard GSD
GSD's Gund Hall was abuzz the morning of December 12.  Several crits were going on simultaneously, and Florian's third-year review was set up in the largest room.  We grabbed our coffees and entered the auditorium, where the air was heavy with anticipation and anxiety.  Students would present in pairs — power points to explain their logic followed by pinned up drawings and models.
Forty-five minutes in, Mera asked a student if she actually looked at contemporary art.  "Do you go to exhibitions? How can you make a museum if you don't look at art?" It wasn't even 10 a.m. yet.
The question indicates one of Mera's pet peeves with contemporary museum design. So many 21st century museums are no longer vessels for art but buildings engaging in architectural gymnastics of awkward bends and sensational moves.  The Bilbao "effect" had become a vexation.
She wondered aloud, "Are we confusing architecture and art?"
Courtesy of Jackie Woon Bae/Harvard GSD
As we neared lunch, a student gave a bold and simple presentation.  The natural architectural impulse is additive, but in this case she subtracted — slicing and demolishing a part of each of the original buildings to reconstitute a museum village with massive underground parking underpinning the economic equation. A compatriot waxed lyrically, applying Walter Benjamin's philosophy to the situation at hand, "There are two kinds of architects, those who are surgeons and those who are magicians and in this case, you are both."  Mera became visibly excited; revenue from parking had not yet occurred to her team, and we went on a tangent about the growing popularity of zip cars, car shares and car clubs — all needing a home.
At 1:30 we paused for a 30-minute buffet. Mera said her goodbyes, missing the afternoon session in order to be honored with Spike Lee at the Museum of Modern Art. But her enthusiasm and thought-provoking questions had sparked a heated dialogue that would continue throughout the afternoon.
Additional jury members settled in, and the discourse became animated and contentious. One of the students bravely consumed and exalted the theories of Pier Vittorio Aureli (author of publications such as The Possibility of an Absolute Architecture and The Project of Autonomy: Politics and Architecture Within and Against Capitalism.)  A faculty member of both the AA and the GSD responded, "I cannot enter this project because your narrative makes no sense to me." Florian posed, "Would this project be better without the narrative?" which led to several jury members deliberating architecture that was political with a capital "P" vs. political with a lower-case "p."  I thought to myself, so this is the echo chamber.
I regained my footing with the next presentation, which dazzled with the geometry of the vault.  The student's investigation of how to bring light into gallery and interstitial spaces was a tour de force of 3D printing. I appreciated the single-mindedness to re-sculpt light and how that might enhance a museum experience.
Courtesy of W. Gavin Robb/Harvard GSD
We concluded the review with a detailed proposition to display the 5,000 objects in the Rubell's collection in a Storage Museum that reinvents art storage furniture.  Vertical pull-out panels, flat files, media cabinets, pallets, racks, and shelves became vehicles of exhibition presentation.  It may have lacked flair, but the solidity and conviction of how she fulfilled the brief made it a stand out.
In step with new-agers, we gathered in a talk circle and tried to summarize the day. We volleyed aesthetics/economics, politics/education, community/authenticity. It was a pleasure and a privilege to be in a room with so many inspiring people, including Rubell herself.