Felix Burrichter's PIN-UP Is The Playboy Of Architecture Magazines
Originally published by Architizer on January 24, 2013.
Playboy launched in 1953, with the tagline "Entertainment for Men." And by its apex (1972, circulation 7 million), it had become the magazine for the adventurous, urbane, liberal male, thanks to its interviews with public intellectuals, short stories by emerging writers (Kerouac, Atwood, Nabokov), and, of course, its iconic centerfold, or the "pin up."
Sixty years after Playboy's debut, the phrase "pin up" is rather antiquated—unless you live and breathe architecture and design. Then the "pin up" can illuminate: Students tack their renderings onto walls and their professors ask, "Does this work?" It's that academic definition that inspired the dapper German Felix Burrichter to launch his journal, PIN-UP, in 2006. But Burrichter does give the famous nudie magazine some credit; below PIN-UP's masthead, in small type, is the tagline "Magazine for Architectural Entertainment."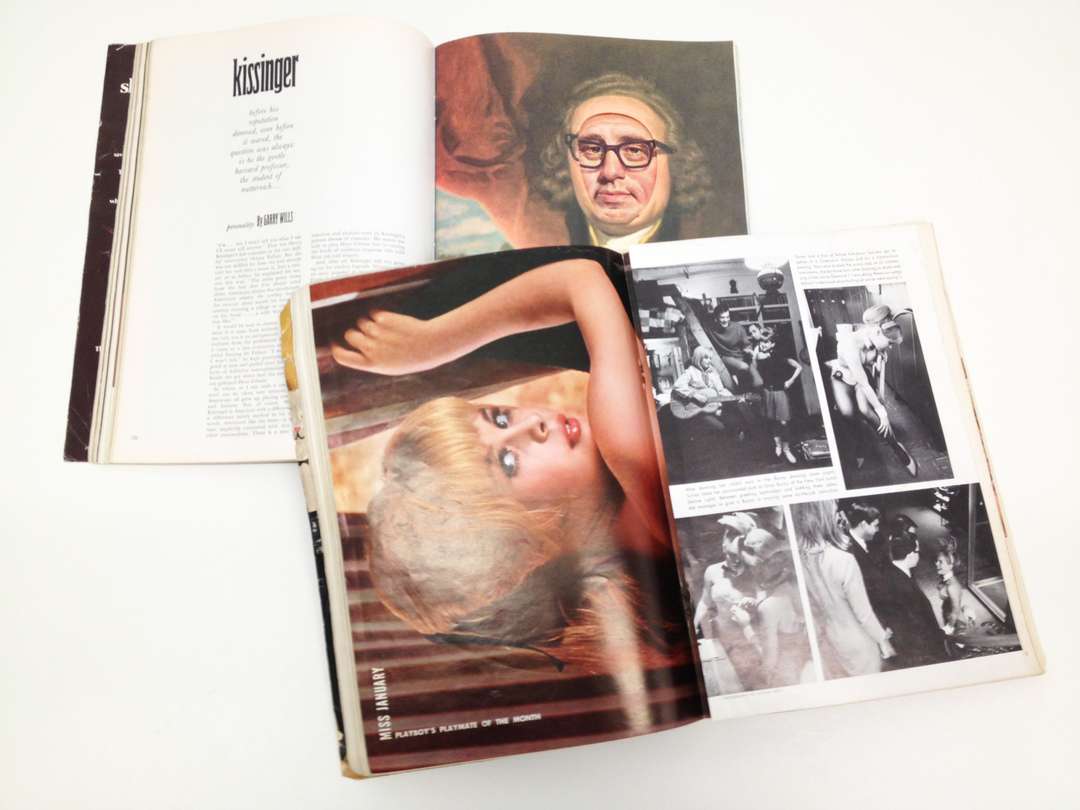 Top: Pages from vintage Playboys. Bottom: a spread from PIN-UP
Felix studied architecture in Paris, obtained a masters degree at Columbia University, and then went to work at KPF, where he was regulated to churning out Photoshop illustrations and mood boards. The disgruntled architect-in-training would spend his days dreaming up the ideal magazine. Drawing upon his experiences with the fashion industry's creative guru Fabien Baron, his admiration for cutting-edge magazines Numeró in Paris and Fantastic Man in Amsterdam, and a newfound chutzpah, Felix started an architectural magazine that favors ideas and process more than the finished project.
Photos from PIN-UP
Going toe-to-toe with Architectural Digest, PIN-UP captures the eccentricity of David Copperfield's four-story penthouse in NYC or the tacky grandeur of the out-of-place Belvedere Guest House on Fire Island. Photo essays spotlight architecture-themed album covers or needle architects' obsession with eyewear. The twice-a-year publication features niche architects who don't meet El Croquis' rarefied standards—such as biker-leather-clad Peter Marino, who employs 160 workers and designs boutique interiors for luxury labels. The crux of each issue is a set of interviews of who matters now: a fashion architect, a quirky interior designer, a prodigy graffiti artist, a couturier. PIN-UP's design is breezy and accessible, featuring sumptuous images and crisp topography.
PIN-UP's distinctive style
Felix's labor of love is included in "Archizine," the popular traveling exhibition of fanzines, journals, and publications curated by Elias Redstone. With 80+ works on display, there is no shortage of disgruntled architects who are devoted to printed matter. Many of these pubs are dense, lofty, and tackle serious criticism. PIN-UP stands out as a crossover because its agenda is no more than to spotlight Felix's current obsessions in architecture, contemporary art, objects, and people. Taking a cue from New York magazine's Approval Matrix (which first appeared in print in 2004), Felix nimbly navigates high and low for a culturally astute audience that doesn't take itself too seriously. PIN-UP may lack a Hugh Hefner centerfold, but it certainly delivers on its entertainment mandate for titillation.